Race: Splash, Mash and Dash
When: June 18, 2016
Where: Grantham, NH
Distances: 500m/12m/5k
This was my first ever triathlon!  I started in training in January when my husband basically dared me to try it.  The race is at the Eastman Residential Community where his parents have a condo.  They have volunteered at the race for the last few years and were really supportive when I told them I planned to compete.
Eastman is about an hour and 45 minutes from our house.  My daughter and I drove up the night before (while my husband and son were at youth league baseball practice followed by middle school end of school party).  We got there 15 minutes before the end of check in (phew!) and then drove the bike course to check it out.
Every few minutes she asked me – "mom, are you sure you want to do this?"
This just added to my nerves, but I said – "yes!  I already paid for it and I've been training for months."
She then asked – "oh, is this what you were doing when you were exercising before we got up all the time?"
Well, yes.  This IS what I was doing,
At any rate, we made it to the condo in time for grilled chicken thighs and quinoa vegetable salad. Yum.  I was so nervous I decided to have a glass (or two) of wine to calm down.  In retrospect, this was probably not the best idea.  Water would have been better.  But I did sleep.
The next morning I was up around 6 am and ate a bagel. My stomach/intestines were a mess, but I won't go into the details here.  I wanted to get to the race by around 7 am for the 8 am start.  I was in wave D – so figured my actual start would probably be around 8:15.  The race area is only a couple miles from the condo, but the family wanted to come.  We didn't finally get to the transition area with all my stuff until 7:45.  Ack!  Less time to be anxious standing by the lake, I guess.
I found a spot for my stuff and set up the transition area pretty close to the middle in these wooden crate like things.  There were two divets to hold the bike, area in the crate for my bag and I put down a towel for my shoes, helmet, etc. next to the bike.
Swim – 500 m
I had come up to Eastman a couple weekends before the race to swim in the lake.  All my swimming so far this year has been in the pool and I had never swum a long distance in the lake anyway.  Most of my past swimming was just to the dock and back.  I also wanted to know if I would need a wetsuit. The water temperature was in the mid 60s.  Which was manageable.   I did sputter a bit and have trouble getting into a rhythm for the first few minutes, but was fine after a bit.
The race swim was about the same.  Taking the advice for newbies I had read online, I placed my self at the back of the pack and dunked under the water while waiting for the start.  The course itself was a triangle out two buoys from the pier and then back three buoys to the shore.
I had the same issues with sputtering and getting into a rhythm that I had experienced before.  But by the time I got to the first buoy I was OK.  It was at this point that the woman in front of me – who was swimming the sidestroke – kicked me in the stomach while zigzagging in front of me.  She swam off on a zag and I stayed inline around the buoy and avoided her after that.
I was pretty slow, but kept pushing forward and finished the swim without stopping to the shore.
Time: 17.41 minutes
Pace: 3.48 per 100 meters
Rank: 152/158
T1
I tried to move quickly into the transition area stepping through the kiddie pools to get the sand off my feet.
When I got to my bike I found it had tipped over onto my stuff.  It took a bit of time to get the bike to stay upright.  I turns out one of my water bottles had emptied onto the second microfiber towel I was going to use to dry off.   Luckily my shoes were dry and I had another water bottle that I planned to use to squirt the grass off my feet.   I got myself together and into my shoes and helmet and waddled off.  My husband and kids were to the side of the transition area, near the bike exit cheering me on.
Time: 4.38 minutes
Bike
It turns out that the bike is my strongest discipline.  I felt great after getting up the first big hill that is immediately after the transition area.  I hadn't yet completely figured out shifting the front derailleur ad had to stop to get it in the granny ring.  A couple people past me and a couple people bailed out in the swim, so I think I was pretty much dead last at this point.   It was a little discouraging to see that there were some people finishing in the other direction just as I was getting started, but ….
But not for long!  I caught up to the pack in front of me and passed 7 people.  I felt really good, although I didn't drink enough.  I need to practice drinking on the move or get a Camelback.
The last hill was a nightmare that ran from the entrance to Eastman for the last mile until the final downhill into transition.  I wasn't sure I was going to be able to make up the crest, but I powered through and did it!  The whole 12 miles was pleasant and over before I realized it, I just wish there were more mile markers.  I only saw the one announcing that the turnaround was in 1/2 mile.
Time: 58.31 minutes
Pace: 4.68 per mile
Rank: 145/158
T2
I had a much better transition from bike to run.  I got in pretty quickly, changed my shoes, flipped my belt, took off my helmet and had a big drink.  I almost ran off with my gloves on though.  I wasted a little time figuring out where the run started, but soon I was off.  Well, sort of.  I just couldn't get my legs working.  For the first few minutes I had to "run" to a count of 30 and then walk to a count of 30.  At least one of the people I passed on the bike lapped me during this portion of the run.
Time: 2.41 minutes
Run
The start of the run was really hard.  I just could not get my legs to go.  I tried my trusty counting method – run to a count of 30, walk to a count of 30, repeat.  After about 5 of those I could keep a slow but pretty steady jog (except on the steep uphills).
The course is the trail run I usually run when staying with the in-laws so I knew what to expect.  I stopped at the first water station – don't drink and run – and kept on moving.  At the corner for the loop my husband and kids where waiting with the in-law's doggie.
At this point I was starting to suffer – my right shin was cramping.  I made it to the second water station and stopped for two drinks of water and to stretch my shin.  After that I felt better and launched into my shambling jog.
After another mile I could faintly hear the sounds of the finish line – runner announcements and music.  I admit I got a bit emotional knowing I was so close to the end.  With that surge of adrenaline I actually sped up (a teensy bit) to the finish.
Time: 46.01 minutes
Pace: 14.38 per mile
Rank: 148/158
Total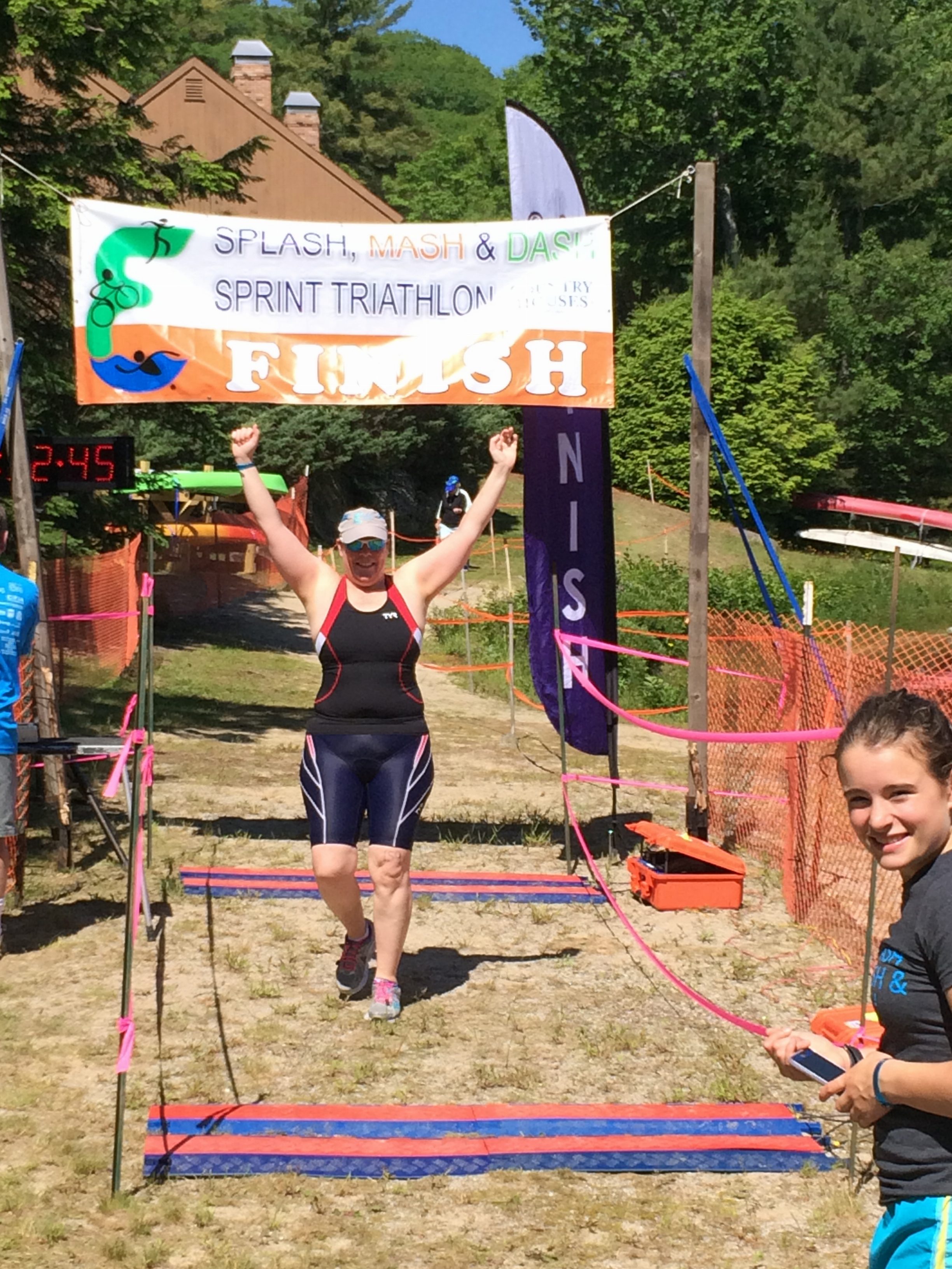 This is actually a reenactment (notice the change of caps) as I made it to the finish before my family made it back.  They had to return the dog.
But in the end – I made it.  And I wasn't last!  Right before my reenactment, last finisher came through and she was just as happy and proud as I was.
DFL > DNF > DNS
(Dead Frickin' Last > Did Not Finish > Did Not Start)
Time: 2 hours 8 minutes
Rank: 149/158